FALSE PROPHET - FALSO PROFETA
(Bob Dylan)

dall'album "Rough And Rowdy Ways"
("False prophet" è probabilmente ispirata ad un vecchio blues. Si tratta certo di una rielaborazione, nella quale però alcune parti sono rimaste sostanzialmente uguali all'originale. Il brano è molto simile ad un B-side degli anni Cinquanta di Billy "The Kid" Emerson, "If Lovin' Is Believing", di cui sono riprodotti fedelmente il riff e l'andamento. La canzone di Emerson che oltre che cantante e autore è stato anche predicatore, è stata pubblicata dalla Sun Records nel 1954 come B-Side di un disco che sul lato A conteneva il brano "No Teasing Around". La voce è di Emerson, mentre la chitarra è di Ike Turner)
traduzione assemblata da Mr.Tambourine dopo il confronto tra le diverse versioni presenti sul WEB
[Verse 1]
Another day that don't end
Un altro giorno che non finisce
Another ship goin' out
Un'altra nave sta salpando
Another day of anger, bitterness, and doubt
Un altro giorno di rabbia, amarezza e dubbio
I know how it happened
So come è successo
I saw it begin
L'ho visto cominciare
I opened my heart to the world and the world came in
Io ho aperto il mio cuore al mondo e il mondo è entrato

[Verse 2]
Hello Mary Lou
Ciao Mary Lou
(potrebbe essere un riferimento alla canzone "Hello Mary Lou" scritta dal cantante statunitense Gene Pitney e Padre Cayet Mangiaracina, cantata inizialmente da Johnny Duncan nel 1960 e incisa anche da Ricky Nelson nel 1961)
Hello Miss Pearl
Ciao signorina Pearl
(potrebbe essere un riferimento a "Miss Pearl", una canzone scritta da Jimmy Wages e registrata nel 1956 per la Sun Records)
My fleet-footed guides from the underworld
Le mie guide piedipiatti venute dall'inferno
No stars in the sky shine brighter than you
Nessuna stella nel cielo brilla quanto te
You girls mean business and I do too
Fate sul serio voi ragazze ed io faccio lo stesso

[Verse 3]
Well I'm the enemy of treason
Bene, sono nemico dell' inganno
A enemy of strife
Un nemico della discordia
I'm the enemy of the unlived meaningless life
Io sono nemico della vita non vissuta e senza senso
I ain't no false prophet
Io non sono un falso profeta
I just know what i know
So solo quello che so
I go where only the lonely can go
Vado dove solo i solitari possono andare
("Only The Lonely (Know How I Feel)", è anche una canzone scritta da Roy Orbison e in pubblicata per la prima volta nel 1960 dalla Monument Records)

[Verse 4]
I'm first among equals
Sono il primo tra gli uguali
("First among equals" è la traduzione inglese della famosa locuzione latina "Primus inter pares" che letteralmente significa "primo tra i pari", con la quale si identificava una persona rappresentativa in un gruppo di altre che erano al suo stesso livello e con pari dignità; la funzione del primus inter pares era di guida e di coordinamento, ed i suoi poteri erano vincolati dalla condizione stessa di essere a capo di persone sue pari. Solo in casi particolari il primus assumeva il ruolo di decisore di ultima istanza.
Nella Politica di Aristotele si afferma che solo chi è superiore agli altri può governare stabilmente, mentre il primus inter pares non può che governare a turno con gli altri pari e in periodi uguali, senza una priorità temporale prestabilita da un qualche ordine, ma determinata per sorteggio)

Second to none
Secondo a nessuno
The last of the best
L'ultimo dei migliori
You can bury the rest
gli altri puoi seppellirli
Bury 'em naked with their silver and gold
Seppelliscili nudi con il loro argento e oro
Put them six feet under and a pray for their souls
Mettili sei piedi sotto e prega per le loro anime

[Verse 5]
What are you lookin' at
Cosa stai guardando
There's nothing to see
Non c'è niente da vedere
Just a cool breeze that's encircling me
Solo una brezza fresca che mi circonda
Let's go for a walk in the garden
Andiamo a fare una passeggiata in giardino
So far and so wide
Così lontano e così ampio
We can sit in the shade by the fountain-side
Possiamo sederci all'ombra vicino alla fontana

[Verse 6]
I search the world over
Cerco in tutto il mondo
For the Holy Grail
Il Santo Graal
I sing songs of love
Canto canzoni d'amore
I sing songs of betrayal
Canto canzoni di tradimento
Don't care what I drink
Non importa cosa bevo
I don't care what i eat
Non m' importa cosa mangio
I climbed the mountains of swords on my bare feet
Ho scalato le montagne di spade a piedi nudi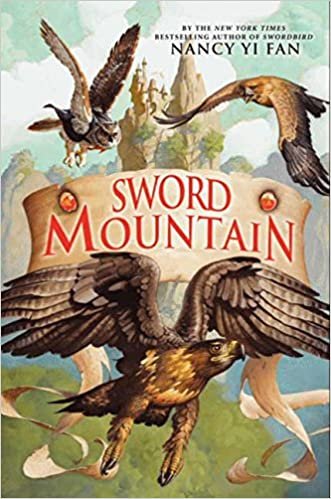 ("Sword Mountain" è un libro di scienza e fantasia per bambini dell' autore Nancy Yi Fan. Le Sword Mountains sono montagne situate sulla costa della Sword North, a nord-ovest di Waterdeep e ad est del Mere of Dead Men. I loro pendii occidentali conducono al Mar Trackless a piedi ai piedi delle colline. Le montagne ospitavano orchi e troll, ma dopo che gli orchi furono uniti da Wund e la Confraternita dello Flagello Scarlatto nel 927 DR, gli orchi cacciarono i troll)


[Verse 7]
You don't know me darlin'
Tu non mi conosci tesoro
("You Don't Know Me" è una canzone scritta da Cindy Walker basata su una storia datagli da Eddy Arnold in 1955. "You Don't Know Me" fu prima registrata da Arnold nel 1956 per la RCA Victor. La versione più venduta fu quella di by Ray Charles)
You never would guess
Non indovineresti mai
I'm nothing like my ghostly appearance would suggest
Non sono niente come il mio aspetto spettrale suggerirebbe
I ain't no false prophet
Non sono un falso profeta
I just said what I said
Ho solo detto quello che ho detto
I'm just here to bring vengeance on somebody's head
Sono qui solo per portare vendetta sulla testa di qualcuno

[Verse 8]
Put out your hand
Stendi la tua mano
There's nothing to hold
Non c'è niente da reggere
Open your mouth
Apri la tua bocca
I'll stuff it with gold
La riempirò d'oro
Oh you poor devil look up if you will
Oh tu povero diavolo, alza lo sguardo se vuoi
The city of God is there on the hill
La città di Dio è là sulla collina

[Verse 9]
Hello stranger
Ciao straniero
(potrebbe essere un riferimento alla canzone "Hallo Stranger" scritta da Alvin Pleasant Delaney Carter nel 1937, probabilmente sulla base di un blues popolare, incisa dalla Carter Family nel 1938)
A long goodbye
Un lungo addio
You ruled the land
Hai governato la terra
But so do I
Ma anch' io
You lost your mule
Hai perso il tuo mulo
You got a poison brain
Hai un cervello avvelenato
I'll marry you to a ball and chain
Ti sposerò con una palla al piede
(Ball & Chain è anche un blues scritto da Big Mama Thornton e reso famoso da Janis Joplin con i Big Brother)

[Verse 10]
You know darlin'
Sai tesoro
The kind of life that I live
Il tipo di vita che io vivo
When your smile meets my smile something's got to give
Quando il tuo sorriso incontra il mio sorriso a ualcosa si deve rinunciare
I ain't no false prophet
Non sono un falso profeta
No I'm nobody's bride
No, non sono la sposa di nessuno
("Nobody's Bride" potrebbe essere un film del 1923 della Universal Pictures sulla criminalità americana del regista Herbert Blaché e scritto da Albert Kenyon. Le star del film erano Herbert Rawlinson, Edna Murphy, Alice Lake, Harry von Meter, Frank Brownlee and Sidney Bracey - ma è anche una canzone di Ronee Blakely)

Can't remember when I was born
Non riesco a ricordare quando sono nato
And I forgot when I died
E ho dimenticato quando sono morto
(Note di Samuele Conficoni: L'immagine è una rivisitazione della copertina di un magazine pulp fiction, The Shadow,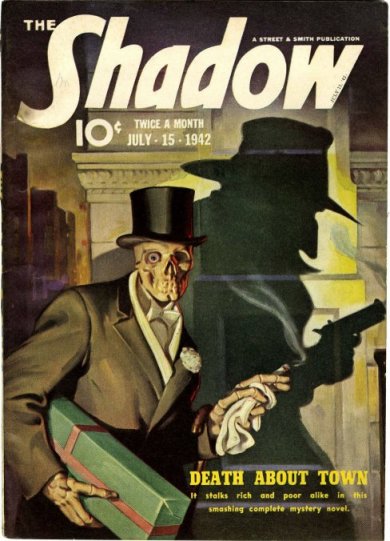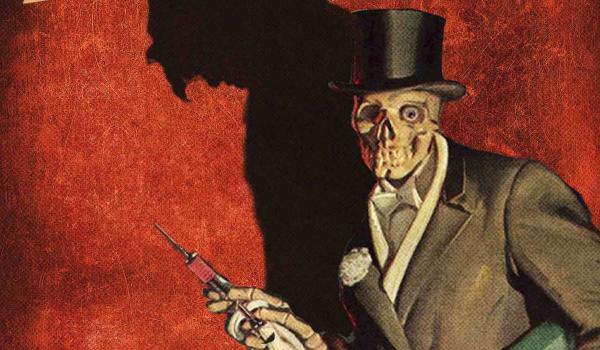 per la precisione un'uscita del luglio '42 che contiene il racconto Death About Town. Le principali modifiche sono due: lo scheletro ha in mano una siringa e, sullo sfondo, compare la silhouette di un signore impiccato (ha il ciuffo di Trump e secondo molti si tratta proprio di lui). Il titolo del nuovo album è stato preso in prestito dal grande cantante country Jimmie Rodgers, morto nel 1933. Nel 1929 Rodgers registrava "My Rough and Rowdy Ways".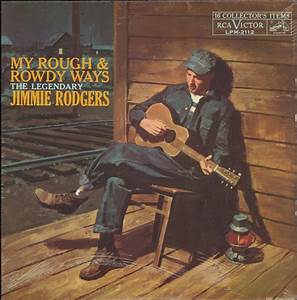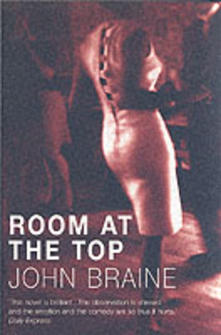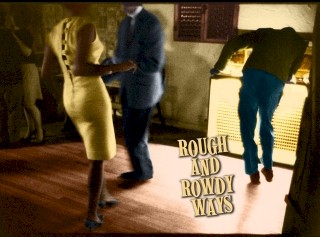 La copertina del disco è una foto scattata in un club di East London da Ian Berry nel 1964, già utilizzata per una ristampa del romanzo "Room at the Top" di John Braine. All'interno del vinile compare una foto di Rodgers accanto alla Carter Family).