Bob Dylan and his Empire Burlesque
( Mick Dylan's 115th dream )

Story by Dean Spencer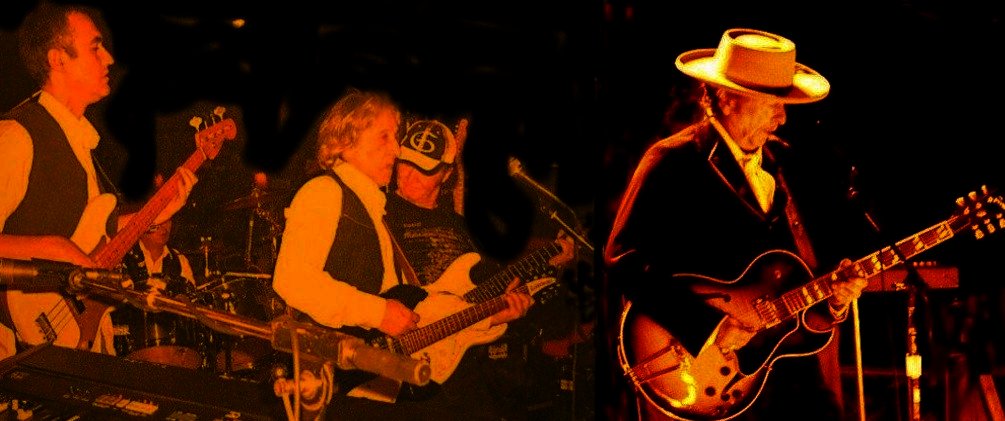 Date: Summer 2012
Place: European Tour

Bob Dylan was lying in his tour bus relaxing and reading some poems by James Joyce. Another bus with his backing band was following closely behind and they had all just crossed the Italian border when disaster struck. A blow out. The bus skids out of control and slides off the road and comes to stop only after destroying the guardrail.
"What now?" Bob asked to Jeff Rosen, his tour manager.
"We're in deep shit, Bob. Some of the guys back there will be out for weeks if not months!" answered Jeff.
"You must be kidding me man, we have another fifteen dates left. What are we gonna do?"
"I know one thing, to cancel the tour now would cost us millions, our best bet would be to find some new musicians within the next four days" replied Jeff.
"Yeah, I'll just pick up the phone and ask some old friends to come here and help me out. Do you think it's that easy? These guys have been playing with me for years now, they know all the different keys we've put into all the old songs. No, it's impossible. We'll just have to cancel the tour" said Bob.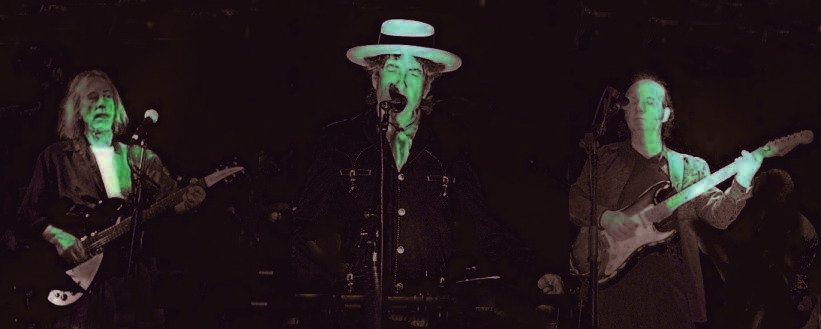 "Bob, I don't know off hand the exact amount, but I think this thing could cost you 6 to 8 million ... Can you afford such an expense?"
"Not really, no. You know all my money is tied up. Not to mention my private life right now - you know what I mean."
"Well, Bob, I don't know what to say, there could possibly be a solution ... but you know, it could be very risky."
"I've been taking risks all my life, Jeff. What's one more? Let's hear it – we are talking about my money here."
"Well ... theoretically it's simple, we take the best Italian tribute band ... get them to play and you sing the songs tailored to their arrangements ..."
"You've had some crazy ideas in your time, Jeff, but this takes the cake. You must be mad, but what worries me more is that I must be going mad too. If there is no other alternative, I'll give it a try! ... Go on then, go and find me this bloody tribute band." concluded Bob.
Minutes later Jeff was on the phone to Bob's Italian agent, explaining the idea.
"It's crazy - the agent said - but it might work."


The agent then phoned Michele Murino, webmaster of Maggie's Farm, the Italian unofficial site of Bob Dylan, and explained the situation. It took just a few seconds for Michele to reply:
"Definitely The Empire Burlesque, if you want to play safe. They won't let you down."

Mick was washing his motorcycle when the phone rang.
"Hello, who is speaking?" He asked after seeing the unknown number on the display.
"Mick ... Mick Dylan ?" asked the voice on the other side.
"Yes , with whom am I speaking?"
"I'm Giorgio ********, the Italian agent of Bob Dylan."
"Pleased to speak to you - said Mick - can I help in some way ?"
"It 's a rather strange situation ... I don't know where to start."
"Why not from the beginning?"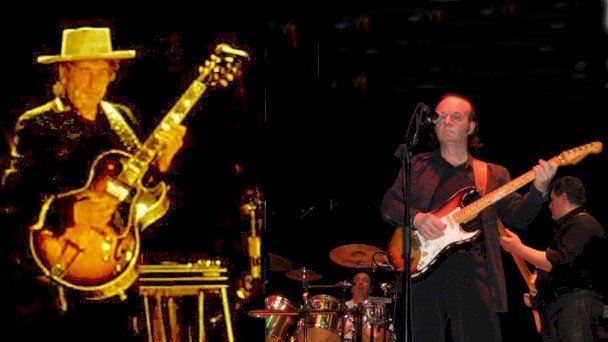 "Well ... I was instructed to contact you by Mr. Bob Dylan. His band, you see, had this ..."
"Excuse me Mr. ********, I don't want to sound rude, it's too late for carnival and I don't have time for these kind of jokes."
"Mick, I'm not joking. Bob has asked me to call you and see if you and the Empire Burlesque are interested in playing the remaining tour dates with him ..."
Mick slammed the phone down "Who the hell is this joker?", he thought.
The phone rang again. "Mr. I don't know how you got hold of this number but I'm not laughing. Don't you think that it's a little too far-fetched this story of yours?"
"I know this may sound incredible Mick, but believe me, I wouldn't joke about something as serious as this. You must have heard about the accident in which his musicians were involved in. Bob would really like you to play for him."
"Yeah, I heard the news on TV ... but you can't expect me to think for one moment that he would need us to replace his musicians. Nah, not even if Bob was to ask me in person" said Mick.
"Well, Mick, why not talk to him? Do you speak English?"
"Oh, Holy Christ, only a bit ..."
"Hi Mick, can you help me?" said the unmistakable voice of Bob.
In a short time Bob was able to convince Mick that it was no joke and that there was no other way he could continue the tour.


Later Mick met up with the other members of The Empire Burlesque."Boys, don't go thinking that it's a joke and please try and believe me. What I'm about to tell you is the damn truth!"
Mick explained the whole thing to his band mates.
"Shit, Mick, what have you been smoking?" Darius said.
"Do you think we are complete fools?" said Riki.
"No way!" said D.D.
"This idea is absolutely crazy, however count me in," said Frank.
The next day the band arrived where Bob and his staff were staying.
"Hi guys, I'm Jeff Rosen, Bob's tour manager. Do you have your instruments with you?"
"Yes - Mick replied with his knees now trembling - what do we have to do?"
"OK, everyone on the bus, Bob is waiting for you in the theater we have rented for the practice sessions".
Outside the theater stood a real army of bodyguards, the rumors had spread fast and many curious fans and journalists had already gathered.
"Come in - said Jeff - don't worry, we're well protected here, no one will disturb us."
"Shit, I can believe that!" said Mick.
When they found themselves in front of Bob, The Empire Burlesque felt all their strength about to abandon them, but luckily their curiosity was stronger than their fear.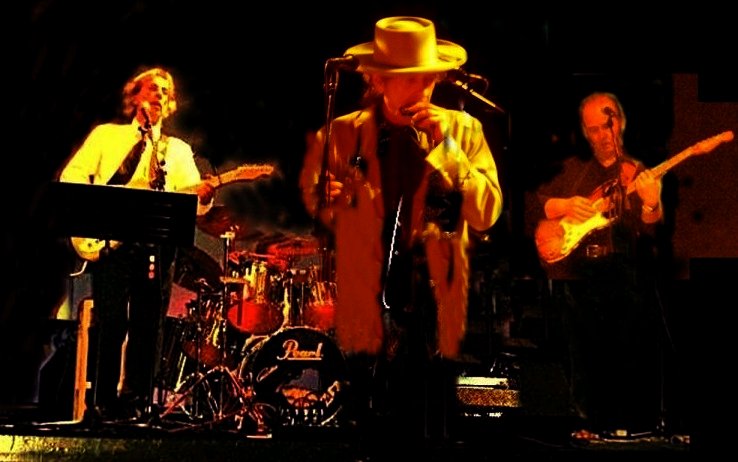 "Hello everyone - said Bob waving his arm - welcome aboard."
Bob was sitting in the audience and was drinking a glass of wine. He looked very relaxed and eager to start. The stage was assembled with all the amplification which would be used for the tour.
"Well - Bob said after shaking hands with everyone – let's not waste time, get up on stage and let me hear a song."
The Empire Burlesque slowly and with much trepidation climbed up on stage and opened with Highway 61. The start was terrible, but in the middle of the song they kicked in and finished the piece like a train at full speed.
At the end of the song a deathly silence fell over the theater. Then Bob got up, climbed on stage, stood before the microphone and said, "Well, let's start again, this time I'll sing."
And that's what happened for the next four days of practice. Bob was happy and The Empire Burlesque were walking on cloud nine, living a dream with a once in a life time experience.
After an overwhelming Hendrix-style All Along the Watchtower, Bob said "I think we are ready, it'll work."
That evening there was a big party in the hotel.
"MMMM ... Well, we needed this party." Bob said rising from his seat. The tension had lifted "This is the mood we must have on stage and don't worry – he said, addressing The Empire Burlesque – you're very good. I must admit I was more afraid than you guys, but let me tell you right now you have cancelled my fears! Tomorrow we'll play the show in Rome, none of us wants to look bad, right? If you play as you are able to, we'll knock them dead."


"Please, welcome the Columbia Recording Artist Bob Dylan and his new Italian band, The Empire Burlesque!"
The audience looked on in astonishment: no news about had been leaked by Bob's management and this new band announcement took everyone by surprise.
The concert started with Stuck Inside of Mobile, then followed with I Shall Be Released, Hurricane, Highway 61, Mississipi, and when a wonderful version of Workingman blues ended, the audience burst into a standing ovation. Everyone stood up to honour those five guys who had the heart and courage to go on stage with the "one and only" Bob Dylan, giving to the show a new mood and a different flavour.
The concert was closed with an epic performance of LARS followed by Jolene and Watchtower. Bob and his Empire Burlesque left the stage soon after in a pool of sweat but with an immense joy in their hearts.
The same scenes were repeated in all the shows of the remaining tour.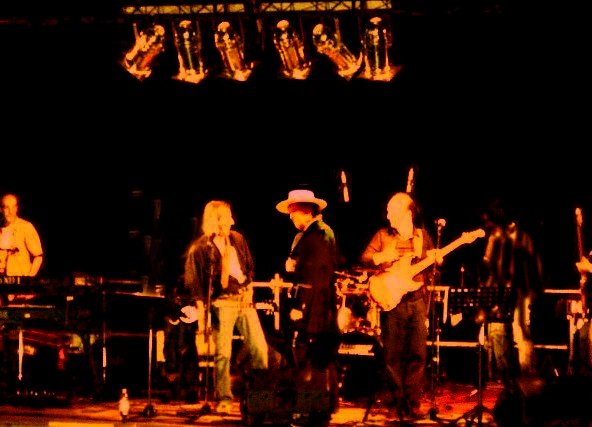 In the last gig, after the encore of Like a Rolling Stone, when all the applause had subsided, Bob spoke to the crowd "I will now present five good and brave musicians who gave me a big hand in getting me out of a shitty situation."
Bob then introduced the boys to the public one by one, shaking their hands as he went along. The applause was overwhelming and Mick, Darius, Frank, Riki and DD were in tears and everyone knew exactly why. Even the normally super cool Bob looked more excited than anyone could remember in years. It all seemed too good to be true.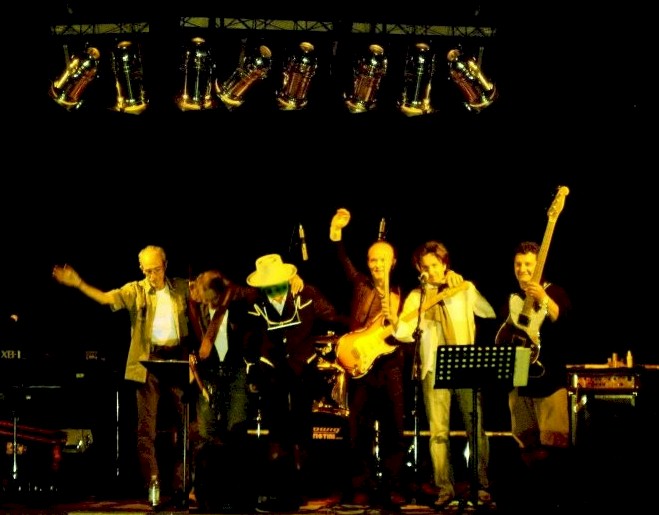 Just then the alarm-clock ringed. Mick opened his eyes saying "Damn ... it's time to go to work. Fuck men ... what a beautiful dream, thanks a lot Bob."


The photomontages were made with Paint Shop Pro 7 - Microsoft Image Composer - Photoimpact 6
Video performed by Al Diesan (as Bob Dylan) and The Blackstones (as Empire Burlesque)
webbsite: http://www.blackstones.it
webbsite: http://www.al-diesan.it

I fantaracconti dylaniani
Bob Dylan and his Empire Burlesque
Scritto da Dean Spencer
Estate 2012, Dylan è in tour in Europa, sdraiato nel suo tourbus stava leggendo alcune poesie di Joyce per passare il tempo. Il Bus con la band lo seguiva da vicino quando, all'improvviso, appena passata la frontiera italiana, una gomma esplose ed il bus,dopo aver sfondato il guardrail uscì di strada.
"Allora ?" chiese Bob a Jeff.
"Allora siamo nella merda ! Sono ridotti abbastanza male , nessuno che possa cavarsela in meno di due mesi" rispose Jeff Rosen.
"Cazzo Jeff......disse Dylan davvero preoccupato - abbiamo ancora 15 date, come facciamo ?".
"Annullarle non possiamo assolutamente, dobbiamo far arrivare dei musicisti entro 4 giorni, non abbiamo alternative, annullare il tuor ci costerebbe qualcosa come un sacco di milioni".
"Già....adesso prendo il telefono e faccio venire qualcuno che non suona più con me da anni.....sono anni che suono con questi ragazzi.....le canzoni sono tutte diverse...le tonalità anche....no, è impossibile, dobbiamo annullare il tour!" disse Bob.
"Bob, io non ho fatto il calcolo preciso, ma credo che questa cosa ti costerebbe dai 6 agli 8 milioni.........puoi permetterti una spesa simile?"-
"No, andrei sul lastrico e alla mia età non è bello, senza contare il resto della faccenda, sai cosa voglio dire....."
"Senti Bob......io non saprei proprio cosa fare.......forse una soluzione ci sarebbe....se sei disposto a rischiare...........".
"E' una vita che rischio Jeff, cosa vuoi che sia una volta in più ? Stiamo parlando di qualche milione di dollari dei miei.....sputa l'idea" disse Bob.
"Bhe..........teoricamente è semplice.......prendiamo una tribute band italiana......quello che troviamo di meglio........loro suonano e tu canti adattandoti ai loro arrangiamenti....".
"Per la miseria, tu devi essere pazzo Jeff.....ma come cazzo fano a venirti certe idee ?..........Va bene, accetto, ho qualche altra scelta?".
"No!" disse laconico Jeff.
"Forza allora, trovami questa cazzo di tribute band e mettiamoci sotto" concluse Bob.
Jeff Rosen telefonò all'agente italiano di Bob spiegando l'idea.
"E' pazzesco – disse l'agente – ma potrebbe funzionare".
L'agente chiamò al telefono Michele Murino, il creatore del sito italiano di Bob Dylan, e dopo avergli spiegato la faccenda rimase in attesa delle parole di Michele.
"Senz'altro gli Empire Burlesque – gli disse Michele - con loro andrete sul sicuro!".
Mick stava lavando la sua motocicletta quando squillò il cellulare.
" Pronto chi è ?" chiese dopo aver visto il numero sconosciuto sul display.
"Mick...Mick Dylan ?" chiese la voce dall'altro lato.
"Sono io, con chi parlo ?".
"Sono Giorgio ********, l'agente italiano di Bob Dylan".
"Piacere di conoscerla – rispose Mick – in cosa posso esserle utile?".
"E' una cosa piuttosto strana....non so da dove cominciare".
"Perchè non prova dall'inizio?"
"Bene.....sono stato incaricato da Bob Dylan di contattare lei ed il suo gruppo, in sostanza....".
"Scusi Signor ********, non vorrei sembrarle scortese, ma non le sembra di essere un pò fuori tempo per gli scherzi di carnevale ?".
"Non è uno scherzo Mick, Bob vuole che l'accompagnate per il resto della sua tournee europea....".
Mick interruppe la comunicazione, "Cretino lui ed i suoi scherzi del cazzo", pensò.
Il telefono squillò ancora.
"Signor come cazzo si chiama, lo scherzo non è riuscito, devo ammettere che era bello, ma non trova sia un pò troppo grosso per essere credibile?".
"E' proprio questo il fatto, la cosa è dannatamente grossa e capisco che risulti incredibile, ma è la verità, Bob vuole che suonate per lui, avrà sentito dell'incidente nel quale sono stati coinvolti i suoi musicisti.."
"Si certo, ne hanno parlato tutte le TV....così dovrei credere che Bob vuole che noi sostituiamo i suoi musicisti ? Non ci crederei nemmeno se me lo chiedesse lui in persona" disse Mick.
"Bene, allora glielo passo, conosce l'inglese?".
"Oh Cristo santissimo, a livello molto scarso....."
"Hi Mick, can you help me ?" chiese la inconfondibile voce di Bob.
Dopo un pò Bob riuscì a convincere Mick che non aveva altra soluzione per continuare il tour.
"Ragazzi – disse Mick agli altri componenti degli Empire Burlesque – so che penserete ad uno scherzo, ma vi prego di prendere sul serio le mie parole, non ho intenzione di scherzare ne di prendervi in giro, quello che sto per dirvi è la maledetta verità!". Mick spiegò tutta la faccenda.
"Cazzo – Mick, inventane un'altra disse Darius.
"Ci hai presi per scemi ?" chiese Riki.
"Non è possibile!" commentò D.D.
"L'idea è assolutamente pazzesca, comunque io ci sto" disse Frank.
Il giorno dopo raggiunsero la località dove Bob ed il suo staff soggiornavano.
"Salve ragazzi, sono Jeff Rosen, il manager di Bob, avete portato gli strumenti ?".
"Si – rispose Mick con le ginocchia che gli tremavano, che facciamo?.
"Tutti sul tour bus, Bob vi aspetta in un teatro che abbiamo noleggiato per cominciare le prove".
Fuori dal teatro c'era un vero esercito di bodyguards, la voce si era sparsa in fretta e curiosi e giornalisti cominciavano ad arrivare in massa.
"Avanti dentro – disse Jeff – non preoccupatevi, siamo ben protetti, nessuno ci disturberà".
"Cazzo , lo credo" disse Mick.
Quando si trovarono al cospetto di Bob i ragazzi degli Empire Burlesque sentirono che le forze stavano per abbandonarli, ma la curiosità fu più forte della paura.
"Ciao a tutti – disse Bob facendo un cenno di saluto col braccio – benvenuti a bordo".
Bob era seduto in platea e stava bevendo un bicchiere di vino, sembrava molto rilassato ed impaziente, sul palco era montato di tutto, l'amplificazione che avrebbero usato nel resto del tour.
" Bene – disse Bob dopo aver stretto la mano a tutti – non perdiamo tempo, salite sul palco e fatemi sentire una canzone".
Gli Empire Burlesque, con le ginocchia tremanti, salirono sul palco ed attaccarono Highway 61. L'inizio fu tremendo, ma da metà canzone in poi sembravano un treno in piena corsa.
Alla fine del pezzo un silenzio di tomba scese sopra il teatro, Bob si alzò, salì sul palco, si pose davanti al microfono e disse "Bene, cominciamo da capo, adesso la canto io".
Le prove durarono 4 giorni, Bob era soddisfatto e gli Empire Burlesque sembravano toccare il cielo con un dito, stavano vivendo un sogno, un'esperienza che non si sarebbe più ripetuta nella loro vita.
Finita una travolgente All along the watchtower stile Hendrix, Bob disse " Credo che siamo pronti, la cosa funzionerà!".
Quella sera ci fu una gran baldoria nell'albergo dove alloggiavano tutti.
" MMMM......Bene, questa festa ci voleva – disse Bob alzandosi – ha stemperato la tensione, questo è il clima che dobbiamo avere sul palco, non preoccupatevi ragazzi – disse rivolgendosi agli Empire Burlesque – voi andate forte, quello che aveva più paura ero io, ma permettetemi di farvi i miei complimenti e di dirvi che voi me l'avete fatta passare, domani saremo in concerto a Roma, nessuno di noi vuol fare una brutta figura, giusto ? Perciò suonate come sapete e di problemi non ce ne saranno".
"Diamo il benvenuto al Columbia Recordin Artist Bob Dylan, accompagnato da questa sera da una nuova band italiana, The Empire Burlesque!"
La gente era stupita, nessuna notizia in merito era stata fatta trapelare dal management di Bob e la novità tolse il fiato di gola a tutti.
Il concerto inizio con Stuck inside of Mobile, poi seguì I shall be released, Hurricane, Highway 61, Mississsipi e quando fini una magnifica versione di Workingman blues il pubblico esplose in una vera ovazione. Tutti si erano alzati in piedi per omaggiare quei 5 ragazzi che avevano avuto il coraggio di salire sul palco con il "solo ed unico" Bob Dylan dando allo show un sapore nuovo e diverso.
Il concerto fu chiuso in maniera epica da LARS, Jolene ed All long, Bob ed i ragazzi lasciarono il palco in un bagno di sudore ed una gioia immensa nel cuore.
Le stesse scene si ripeterono fino all'altimo dei 15 show rimanenti per chiudere il tour.
Dopo l'encore di Like a rolling stone, quando gli applausi si furono calmati, Bob disse alla folla " Voglio presentarvi 5 musicisti validi e coraggiosi che mi hanno dato una mano a togliermi dalla merda".
Bob li presentò al pubblico andando a stringere la mano ad ognuno dei ragazzi dopo aver detto il loro nome. La folla commossa si spellava le mani, Mick, Darius, Frank, Riki e D.D. stavano piangendo, ma la folla capì il perchè, l'emozione questa volta li aveva fregati davvero, anche Bob era emozionato come mai lo era stato da anni, ma lui era abituato a dissimulare.
Suonò la sveglia, Mick aprì gli occhi dicendo "Cazzo...è già ora di andare al lavoro, ....cazzo però, ....che bel sogno, grazie Bob !".